Understanding the Difference between SAP and Oracle
|
SAP and Oracle are two different vendors and have a clear market share with established product lines. Oracle is a famous technology service provider, most commonly for DBMS, and SAP is well-known for Enterprise Resource Planning (ERP) and professionals who are trained in these systems understand the business activities like Production Planning, Material Management, Finance and Controlling and others. Aspirants need to undergo SAP program to get in-depth knowledge about the product.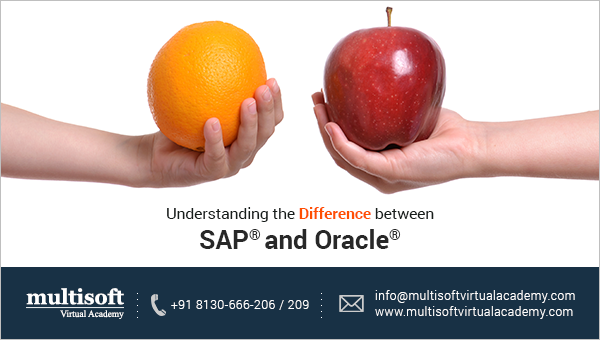 Before checking out the difference, let us explain about these two technologies:
SAP: Systems, Applications and Products in Data Processing helps in integrating different business applications. The product allows real time tracking of business activities rather than using different products for different activities.  SAP ERP is highly recommended by IT companies to make the business activities easy and faster. Moreover, it fits to both small and large IT companies.
ORACLE: Produced by Oracle Corporation, the software is used in large enterprise environments. In Oracle DBMS, data is completely accessed using SQL (Structured Query Language), the commands of which can be embedded in different languages. The product uses two levels:
First Level: Logical storage organized as tablespace
Second Level: Physical Storage completely made up of data files.
Difference between SAP and Oracle:
SAP ERP Training is complex software and used in both large and small companies to integrate business activities, while Oracle is ORDBMS, used only large enterprise companies. One needs to have complete SAP education to use its complexity. Moreover, it is developed to be used in various database systems, including the interfaces for Oracle cloud training.
Implementation and Cost:
When comparing the implementation cost of both, SAP Corporate training is considered as higher cost option. In an average, a company spends 4% of its annual value, compared to Oracle which needs 1.7% in implementation.
Functionality and Customization:
Every product should be designed for easy functionality and customization. In case of SAP and Oracle, customers are customizing the product according to the requirement. Oracle offers solutions for project teams aren't in need of customizing the software, while SAP S4/HANA Finance Training users customize and integrate the tool making it more flexible to use.
Once you have a clear picture about the difference between SAP and Oracle, you can check the SAP program and Oracle online training, which are structured according to the skills to streamline the business process in cost effective.
Under SAP ABAP training program, aspirants will be given training on Oracle Cloud for Customer (C4C), Finance and Controlling, Material Management, HR and others. Similarly in Oracle, aspirants will hone the skills of Installing and Configuring Oracle, Managing Oracle Instance using Enterprise Manager, Utilize Oracle Managed Files and others.