Microsoft Office Project Course Overview
Multisoft Virtual Academy's Microsoft® Project 2010 training introduces candidates to the fundamentals of Microsoft® Project 2010 along with an overview of the project plan, tasks, and resources. This MSP training builds the skills of the individuals in planning and managing the projects using Microsoft® Project 2010.
This Microsoft® Project 2010 course offers the knowledge of desktop features in Project Professional 2010 and Project Standard 2010. After the completion of the Microsoft® Project 2010 training, individuals will efficiently be able to:
Manage resources along with the tasks within the project
Track the progress of the project with the help of different features
Maintain the cost of the project
Make an appropriate schedule for the project
Communicate the project information
Microsoft Office Project Course Content
Introduction
Calendars
Relationship and Linking Task
Work Breakdown Structure
Constraints and Recurring Task
Resource Defining and Assigning
Resource Leveling
Groups and Filters
Tracking the Project Progress and Earned Value Management
Views
Multiple Projects in Single Window
Report and Customizing
Microsoft Office Project course completion certificate
Stand out from the crowd!!
Multisoft Virtual Academy provides certificates of completion to all the aspirants on successful completion of the program.
These digital credentials will allow trained professionals to present a globally-recognized record of their learning to anyone, at any time.
Multisoft Training Completion Certificate Features :
Globally recognized certificate with the complete name of the candidate & Multisoft Virtual Academy logo
Clear specification of Course ID & Course Name
Certificate with Date of Issuance
Unique certificate ID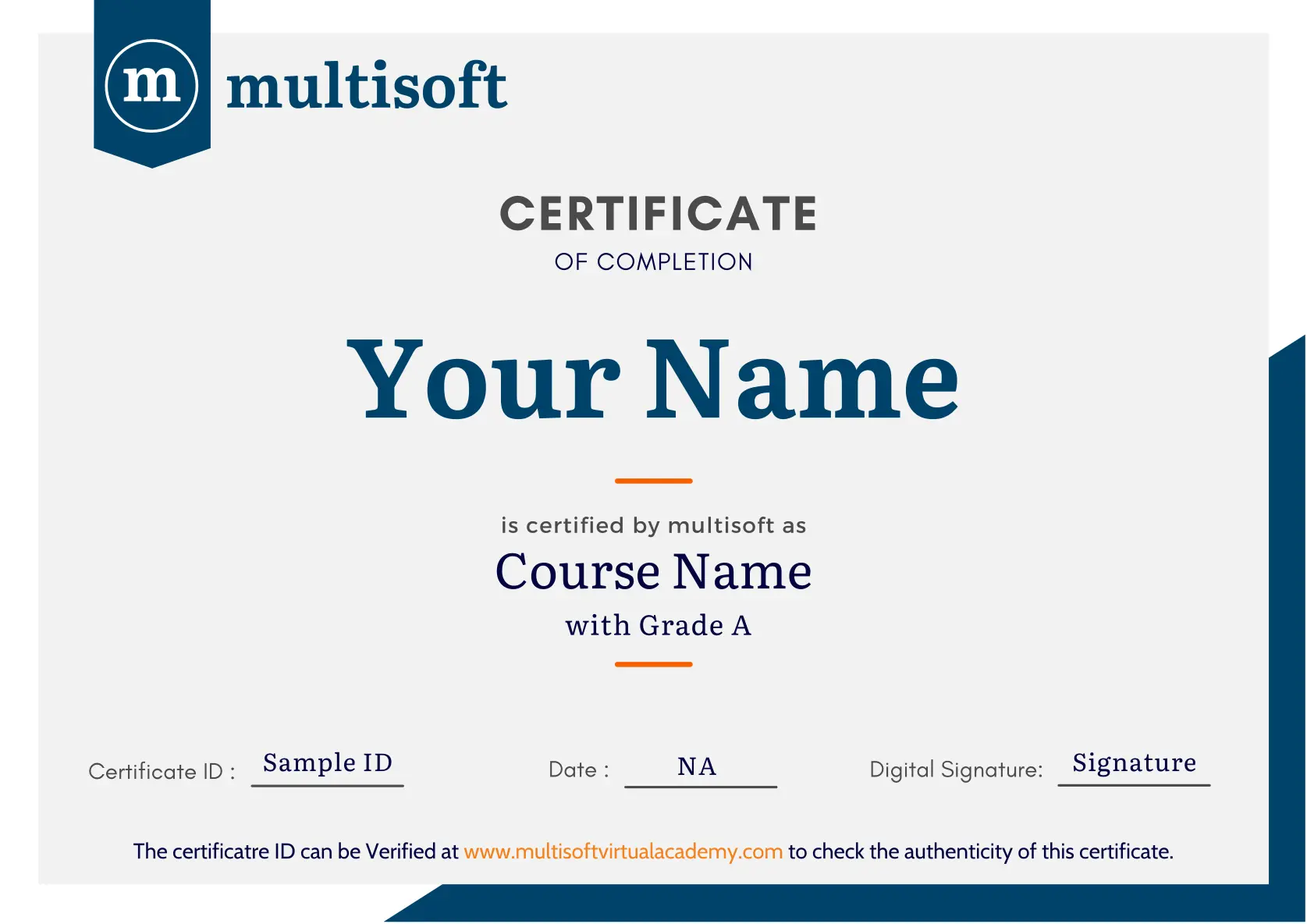 Microsoft Office Project FAQ's
Microsoft® Office Project is a software application that belongs to the family of Microsoft® Office suite of applications. This indispensable toolkit is designed to provide assistance to Project Managers for effectively handling various project tasks. It assists you in: MSP is one of Microsoft's signature products that guides Project Managers in efficiently tracking the progress associated with a project. Presently, approximately 6,50,000 professionals across the globe are Microsoft® Certified Professional Developers (MCPD). • Visualizing project plans • Scheduling tasks and resources • Exchanging project information • Tracking tasks, resources and duration • Controlling projects • Communicating with other stakeholders
MSP is one of Microsoft's signature products that guides Project Managers in efficiently tracking the progress associated with a project. Presently, approximately 6,50,000 professionals across the globe are Microsoft® Certified Professional Developers (MCPD). MSP training is in demand primarily because a lot of organizations across the globe rely on MSP for their project management efforts. This creates an increasing need for individuals adept with the use of MSP across cross-functional teams and processes.
After successful completion of this course, individuals can enjoy the following career benefits: • By learning to successfully and professionally manage projects, individuals open themselves to a wide range of promotion and growth opportunities. • As per payscale.com, the salary of a Microsoft® Certified Professional Developer (MCPD) lies in the range of $60,645 - $82,720. • An MSP certification increases visibility in the organization along with recognition for attained knowledge and skills.
Except for having a passion for the project management profession, there are no specific prerequisites associated with this course.
All individuals managing projects should do this course. MSP training is ideal for both fresher and experienced Project Managers and Project Support personnel who aim to move ahead in the discipline of project management. This course imparts understanding about the functionalities of Microsoft® Project 2010.
No, the exam fee is not included in the course fee. Individuals must pay the exam fee directly to Microsoft.
The course provides an overview of the project plan, tasks, and resources. This certification provided by Microsoft® is ideal for candidates aiming to advance their career in project management. The chief takeaways are: • 10 hours instructor-led Online Training • Experienced Trainer • 9 Exercises • 5 Assignments • 24/7 e-Learning Access • Training Certificate
•
Collaborative Learning Methodology
: Get introduced to a Learning mechanism which has foundations in interactive and collaborative pedagogies. •
Flexible Schedules:
Become the master of your will. Schedule your own batch or join an existing one, take your pick. •
24/7 Learning:
Multisoft provides you access to its Learning Management System (LMS) that hosts all the MSP learning and course material. You can access the LMS 24/7. •
Practice to Perfection:
Gain expertise through a vast question bank with real time score and time analysis along with detailed explanation of the correct answers. • Read
testimonials
to know why Multisoft is the most preferred training provider by professionals globally.
If you are willing to upgrade your knowledge quotient, Multisoft
®
is there for you. We provide the option of
flexible
schedules for all the programs. For working professionals, there is an ease of learning through recorded sessions and 24/7 access to learning resources.
Once you enroll in the program by paying the fees for the same, you get access to LMS. You can access all the course notes, assessments and other material through LMS. The learners can connect to us through a mobile app as well, which is available free of cost at Google Play Store. The LMS content can be accessed 24/7.
If you still have any queries regarding the program or require any other details, you can drop an e-Mail at
info@multisoftvirtualacademy.com
Our Project Manager will send you a response within 24 hours.
Yes, upon the successful completion of the training, you get a training certificate from Multisoft.
The candidates can easily make an online payment through the course page. The fee is mentioned on the page. All you need to do is click on the ENROLL button, and you will be taken to the payment gateway. You also have the option of bank wire transfer. To get the details, you can write to us at
The course fee as mentioned on the website is only for the MSP online training. Multisoft provides knowledge enrichment material to help candidates prepare for the Microsoft® Project 70-178 exam. Candidates must schedule the exam and pay for it directly on Microsoft's website. Since the exam fee and scheduling is a third party transaction, candidates need to directly perform this activity.