Configuring Advanced Windows Server Course Overview
An MCSA Windows Server 2012 R2 certification demonstrates an individual's expertise with skills required to bring a reduction in IT costs. To achieve the same, candidates need to complete three courses and subsequently pass relevant exams. These include MCSA 70-410, 70-411 & 70-412. Multisoft Virtual Academy offers MCSA 70-412 online training, after the successful completion of which, candidates will become eligible for the Microsoft® Certified Solutions Associate (MCSA) Exam 412: Configuring Advanced Windows Server 2012 Services.
This Microsoft® Windows Server 2012 70-412 training acquaints candidates with the methodology of configuring tasks necessary to manage and maintain a Windows Server 2012 infrastructure at the advanced level. This enables professionals, with prior experience of working with Windows Server 2012, to get their skills validated. Also, it upgrades their knowledge to work at a higher and larger level.
This MCSA 70-412 online training focuses on advanced configuration of services necessary to deploy, manage and maintain a Windows Server 2012 infrastructure, such as advanced networking services, Active Directory Domain Services (AD DS), Active Directory Rights Management Services (AD RMS), Active Directory Federation Services (AD FS), Network Load Balancing, Failover Clustering, business continuity and disaster recovery services as well as access and information provisioning and protection technologies such as Dynamic Access Control (DAC), and Web Application Proxy integration with AD FS and Workplace Join.
Configuring Advanced Windows Server Course Content
Implementing Advanced Network Services
Implementing Advanced File Services
Implementing Dynamic Access Control
Implementing Distributed Active Directory Domain Services Deployments
Implementing Active Directory Domain Services Sites and Replication
Implementing Active Directory Certificate Services
Implementing Active Directory Rights Management Services
Implementing Active Directory Federation Services
Implementing Network Load Balancing
Implementing Failover Clustering
Implementing Failover Clustering with Hyper-V
Implementing Disaster Recovery
Configuring Advanced Windows Server course completion certificate
Stand out from the crowd!!
Multisoft Virtual Academy provides certificates of completion to all the aspirants on successful completion of the program.
These digital credentials will allow trained professionals to present a globally-recognized record of their learning to anyone, at any time.
Multisoft Training Completion Certificate Features :
Globally recognized certificate with the complete name of the candidate & Multisoft Virtual Academy logo
Clear specification of Course ID & Course Name
Certificate with Date of Issuance
Unique certificate ID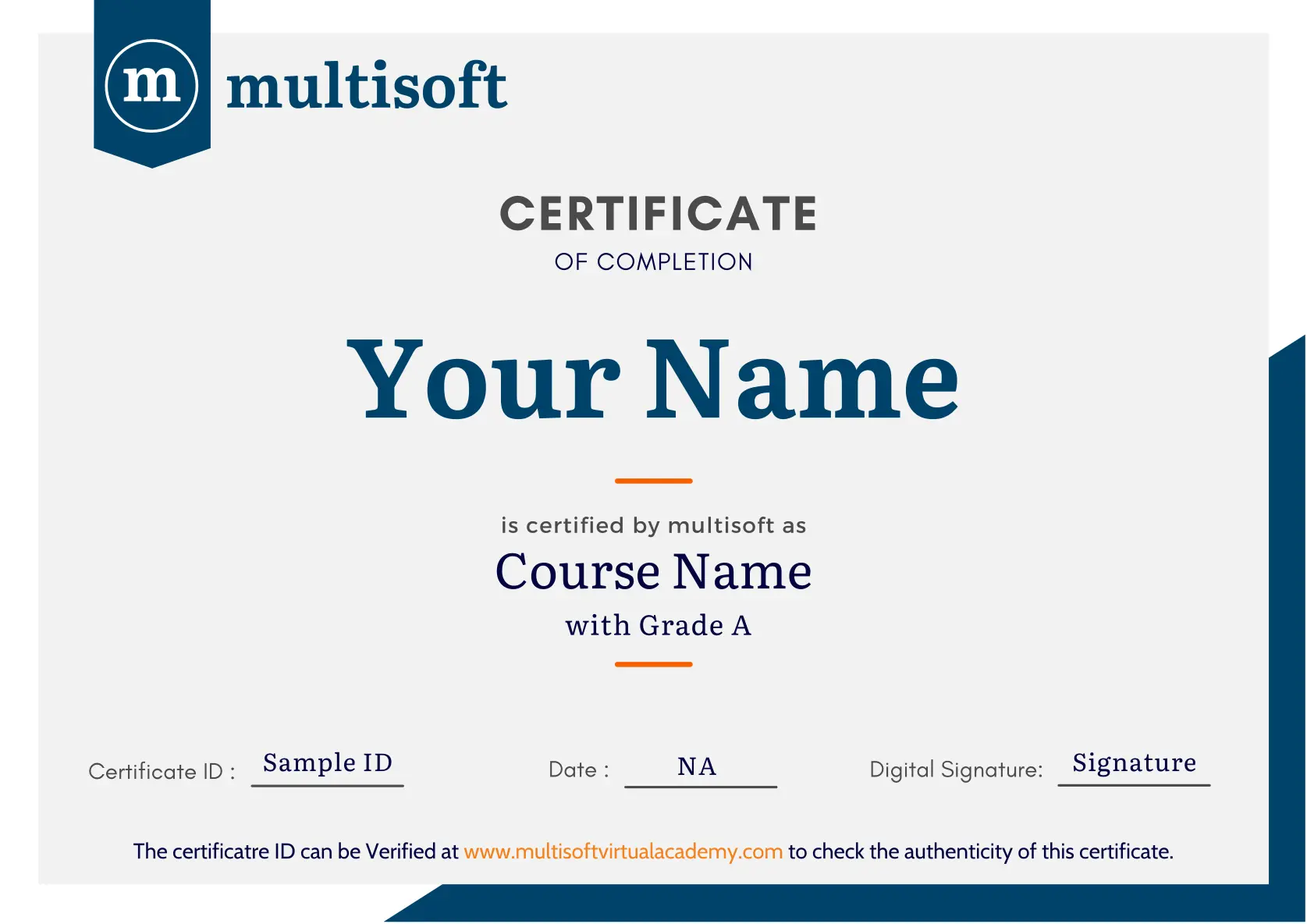 Configuring Advanced Windows Server FAQ's
Microsoft's MCSA (Microsoft® Certified Solutions Associate) certification is for individuals who want to become an expert in providing Microsoft Solutions. The certification is a strong validation of the IT networking skills of a professional and prepares him / her for positions like Computer Network Specialist or Network Systems Administrator. The MCSA certification covers three areas of knowledge: Installing and Configuring Windows Server 2012, Administering Windows Server 2012, and Implementing a Data Warehouse with Microsoft.
| | | |
| --- | --- | --- |
| Step | Exam Code | Exam Title |
| 1 | 70-410 | Installing and Configuring Windows Server 2012 |
| 2 | 70-411 | Administering Windows Server 2012 |
| 3 | 70-412 | Configuring Advanced Windows Server 2012 Services |
There are 40-60 questions in the exam to test the candidate's skills in Installing and Configuring Windows Server 2012. To keep current with technology, the number of questions asked can be changed, though Microsoft® issues updates for the same.
A total 150 minutes of seat time is allotted to a candidate. Out of this, 120 minutes is the exam time which means that a candidate has to complete the exam within 120 minutes.
The types of questions that appear in any given exam will vary, but all exams include one or more of the following question types: • Multiple-choice single answer • Multiple-choice multiple answer • Best answer • Extended matching • Hot-area • Active-screen • Drag-and-drop • Build-list and reorder • Simulations • Short answer Microsoft keeps on developing and testing new types of questions to test the candidates' skills. The questions are based on real time scenarios to examine the candidates' proficiency with on–the-job situations in terms of the role expected from them.
• Each question carries one mark unless it is mentioned otherwise. • No marks are deducted for wrong guess. This means you can attempt all the questions but you would not gain any mark on wrong answers. • Upon the completion of the exam, the points earned by you are totaled and compared with the cut score to determine your pass or fail status.
The passing score for MCSA Certification Exam is 700. Any score equal to or greater than 700 falls under Pass status, and candidates with score below 700 are considered fail. The actual number of questions you need to attempt correctly in order to clear the exam, may vary and is finalized by a group of subject experts
MCSA® does not need the candidate to recertify.
Effective from February 2015, Microsoft provides concession to students on the certification fee. This is known as Academic Pricing. You can take benefit of Academic Pricing, provided you verify your status at the time of exam registration.
Below mentioned are the steps for applying student status through your account profile: • Sign in with your Microsoft account credentials • Select Profile settings from the Account menu at the top of the page • In the Job function menu, select, or ensure that you have selected, "Student" • Look for the academic pricing notice that appears next to the Job function menu. If your student status has not yet been validated, click "Get verified" to verify your status. Steps for applying student status when registering for an exam: • Sign in with your Microsoft account credentials • On the exam for which you want to register, click Schedule exam • On the 'Confirm your exam registration details' page, ensure that the Job function field displays "Student – Verified." If it does not, click "Get verified" to validate your status, or click Edit to change your status
You can provide any of the following for verification of academic status: • School-issued email account • School network credentials • International Student Identity Card (ISIC) • Verification code from a Microsoft representative or your institution's administrator • Relevant Documentation
An academic verification stays valid for 12 months. You need to repeat the process at the end of 12 months period.
No, in this case you are not eligible for any refund. You need to verify your academic status before completing the registration process.
Microsoft certification exams are available in a variety of languages. The candidates who choose to give examination in English rather than their native language can request for extra time, approval for which is subjected to the case requested for.
As per different surveys conducted, certifications provide high salary/growth at work. CompTIA employer perception Report lays emphasis on the growing affinity of Hiring Managers towards the certifications. Microsoft Certification Program Satisfaction Study also reveals that a large number of Hiring mangers (nearly 91 percent) rely on certification as a strong validation of professional skills.
The instructor is an expert from the industry who holds years of experience in the IT networking and system administration domain. Having handled projects for various corporate clients, the trainer understands how businesses work. This enables him to conduct realistic trainings, thus preparing candidates for the on-the-job setups.
Multisoft Virtual Academy provides a wholesome solution for all your training needs. We provide the option of
flexible
schedules for all the programs. For working professionals, there is an ease of learning through recorded sessions and 24/7 access to the learning resource center.
Candidates who want to register for the program can visit the course page and click on the ENROLL button which directs to the payment gateway page. Candidates also have option to make direct payment via Bank Wire transfer. The candidate can drop a mail at
info@multisoftvirtualacademy.com
to get details in that case.
You get instant access to the Learning Management System (LMS) once you enroll for the course. You can access all the course notes, assessments and other material through LMS. The learners get 24/7access to the content.
If you still have any queries regarding the program or need any other details; you can drop an e-mail at
info@multisoftvirtualacademy.com
You will get a reply within 24 hours.
Multisoft's MCSA® 70-411 online program is aimed to build skills in-depth in order to make the participants proficient in deploying and managing Windows Server 2012 infrastructure. Apart from it, the course also prepares them for the MCSA® 70-411 certification exam.
MCSA® certification has three series of tests. MCSA® 70- 412 is second in the list. It tests the candidates' knowledge on the following parameters: • Configuring File and Storage solutions • Implementing Business Continuity and Disaster recovery • Configuring network Services • Configuring access and information protection solutions
You can follow steps for a better approach to the MCSA certification examination: • Enroll for MCSA® 70-412 Online Training by Multisoft Virtual Academy • Avail instant access to e course materials coupled with unparalleled mentorship to guide you at each step • Accelerate your preparation for certification with regular assignments and mock tests • Create an unique ID and register for the exam on Microsoft® website • Schedule the exam as per your requirements by paying the fees for the certification exa
The cost for MCSA® 70-412 certification exam is USD 150. But depending upon the tax policies, the fee can vary from country to country
Gaining knowledge is never complete without testing the same. Following this mantra and in order to accelerate the certification journey of the candidate, Multisoft Virtual Academy provides access to assignments to test the learning at each step.
Aspirants looking forward to learn the deployment and management of Windows server 2012 and want to add the coveted credential can go with
MCSA® 70- 412 Online Training
by Multisoft Virtual Academy. Strictly designed in adherence with the industry demand, the training goes a long way to prepare the candidates for the certification exams.
It is a 24 hours instructor-led online training course which aims to acquaint the candidates with Windows Server 2012 advance infrastructure and advanced networking skills. The chief take aways are: • 24 Hours Instructor-led Online Training • Experienced Trainer • 8 Assignments • 24x7 e-Learning Access • Exam Preparation Tips • Exam Preparation Tips • Training Certificate
Upon enrolling in the program, candidates are given access to simulation tests in order to prepare them for the certification exam. The participants can fast track their preparation with practice tests apart from the step by step assistance.
MCSA® is a highly coveted certification that comprises of three tests. 70-412 is the last step in the list. Gaining MCSA certification can positively impact the professional growth also is a prerequisite for the further advanced level certifications.
Yes, the institute offers training certificate to those candidates who successfully completes the whole MCSA® 70-412 Online Training.