MS Dynamics AX Financials Course Overview
Multisoft Virtual Academy's MS Dynamics AX 2012 Financials Online Training familiarizes candidates with the basic financial functionalities of Microsoft Dynamics 2012. This financial management course imparts expertise in procedures related to comprehensive financial reporting, accounting and analysis. Individuals gain detailed insight about General Ledger, Accounts Receivable, Accounts Payable, Fixed Assets, Expense Management and Liquidity Management (Bank Management).
Dynamics AX 2012 Financials training course also acquaints individuals with cash flow management, intercompany, multicurrency, budget management and consolidated accounting. This Dynamics AX 2012 certification preparation online training additionally builds proficiency in producing customer account statements, financial statements and collection letters.
After the successful completion of MS Dynamics AX 2012 Financials training, individuals will be able to:
Set up Fixed assets module
Compare various fixed asset transaction types
Run reports and inquiries
This online course makes individuals capable of attaining employment in several industries, including Banking, Retail, Public Sector, Manufacturing, Insurance, and Wealth and Asset Management.
MS Dynamics AX Financials Course Content
Course 80219A: Financials I in Microsoft Dynamics AX 2012
General Ledger Setup
Chart of Accounts Setup
Journal Setup
General Ledger Daily Procedures
Sales Tax Setup
Financial Features
Cash and Bank Management Setup
Cash and Bank Management Daily Procedures
Accounts Payable Setup
Accounts Payable Daily Procedures
Accounts Receivable Setup
Accounts Receivable Daily Procedures
Course 80220A: Financials II in Microsoft Dynamics AX 2012
Budgeting
Use and Manage Budgets
Commitment Accounting
Cash Flow Management
Multicurrency
Advanced Payments
Intercompany Accounting
Consolidations
Collections Management
Financial Workflows
Year-End Close
Financial Statements
Course 80302A: Fixed Assets in Microsoft Dynamics AX 2012
Introduction
Setup Procedures
Setup of Assets
Asset Transactions
Inquiries and Reports
MS Dynamics AX Financials course completion certificate
Stand out from the crowd!!
Multisoft Virtual Academy provides certificates of completion to all the aspirants on successful completion of the program.
These digital credentials will allow trained professionals to present a globally-recognized record of their learning to anyone, at any time.
Multisoft Training Completion Certificate Features :
Globally recognized certificate with the complete name of the candidate & Multisoft Virtual Academy logo
Clear specification of Course ID & Course Name
Certificate with Date of Issuance
Unique certificate ID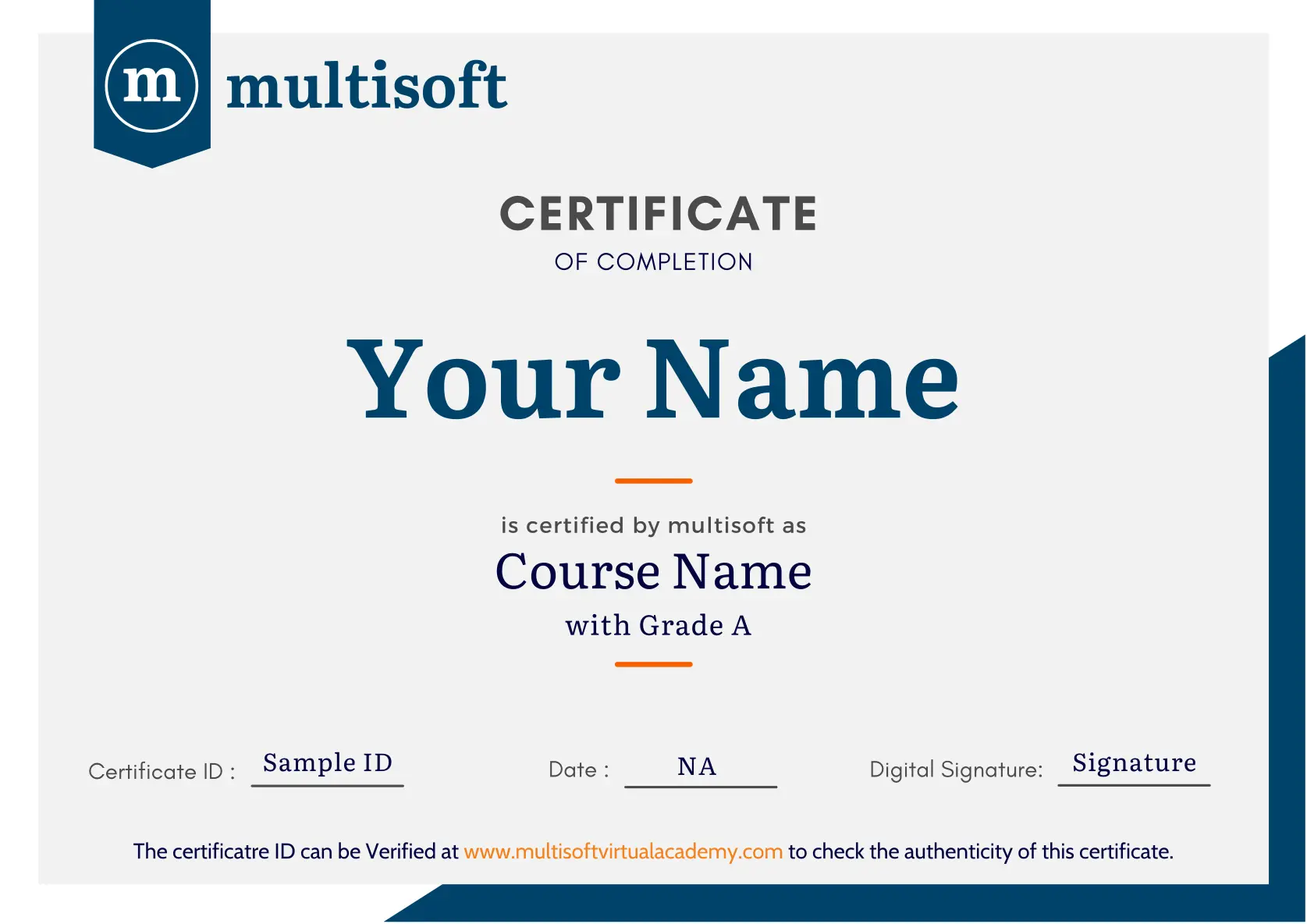 MS Dynamics AX Financials FAQ's
MS Dynamics is a line of software solutions offered by Microsoft that helps organizations to manage their customer and employee relationships. Formally known as CRM (Customer Relationship Management) and ERP (Enterprise Resource Planning) platform, MS Dynamics includes a range of specialized software for managing business operations. Popular services controlled using such tools include sales, finance, human resource, inventory, etc. MS Dynamics products are used worldwide across industries in manufacturing, retail, aviation, customer service etc. MS Dynamics' tools allow businesses to perform tasks like extracting large volume of data; maintaining CSAT data and records; modifying database and more.
Microsoft Dynamics' software products are highly preferred in the global corporate market. As large of number of organizations deploy MS Dynamics solutions, individuals with expertise in implementing them are always in demand. At the Convergence 2015 Conference in March 2015, Microsoft revealed plans about integrating its ERP and CRM line of products with Cloud and Enterprise. For more information.
MS Dynamics AX is Microsoft's line of Enterprise Relationship software products. Using MS Dynamics AX, businesses effectively manage processes and improve overall productivity. MS Dynamics tools offer greater visibility across and within teams, and simplify compliance thereby helping companies to work in a quick and efficient manner.
MS Dynamics AX Financials is Microsoft's flagship ERP application, allowing organizations to manage financial operations. During the course, participants understand how to manage General Ledgers, Sales Tax, and Accounts Payables and Receivables. Individuals get equipped with the use of Financials ERP tool to manage collections, financial statements, consolidations, and multi-currency and inter-company accounting. Additionally, the training imparts knowledge in setting up assets and managing asset transactions.
Few advantages are listed below: • To follow regulatory compliance norms across geographies • To improve functioning across financial departments and perform strategic planning • To better manage the cash in- and out-flow • To provide deep insight of financial status and enable quicker decision making • To improve the overall functioning of accounting department in the organization
To schedule the exam, participants must visit official Microsoft website.
The training cost mentioned on the course page excludes the exam fee. Individuals who wish to appear in the exam can schedule the exam directly from Microsoft's official website. Multisoft Virtual Academy also assists aspirants in scheduling the examination. Interested candidates may write to us at
info@multisoftvirtualacademy.com
Upon successfully clearing the exam, participants will get a Specialist certification in Microsoft Dynamics AX technology.
To obtain the actual pricing, individuals must visit official Microsoft website. This is because pricing varies by geographic location, and may also be changed from time to time.
Candidates who enroll in Dynamics AX training receive instructor-led online training of 28 hours. As part of the live program, participants are equipped with core technology concepts by an experienced trainer. Additionally, candidates get to indulge in hands-on sessions, as well as receive recorded training sessions in their LMS (learning management system) access.
Multisoft ensures that all training programs meet the candidates' needs. Our courses are designed in a comprehensive manner to ensure that by the end of the program, participants are comfortable with the concepts and functionalities involved. In case of any doubts / queries, candidates can ask for post-training support from the instructor.
Candidates can drop an e-mail at
info@multisoftvirtualacademy.com
for queries regarding the program or any other information. Multisoft team will send a response within 24 hours.
Learners can make online payment for the choice of course they want to undergo. The fee details are mentioned on the website. For making a payment, click on ENROLL button (on the course page), which will lead to the payment gateway. Candidates also have the option of bank wire transfer. Write to us at
info@multisoftvirtualacademy.com
and get the details.